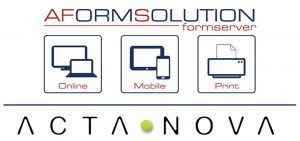 The two e-government experts, aforms2web and RUBICON, are to enter a strategic partnership. The integration of the form server into the Acta Nova business administration results in a complete solution which will lead to efficient communication between citizens and administration.
End-to-end solution for electronic business procedures
Aforms2web's form server, AFORMSOLUTION (AFS) aforms2web, ideally complements Acta Nova, the comprehensive total solution for electronic business administration of RUBICON. Forms can be easily created and managed. The collected data will then be adopted into Acta Nova and further processed. With its included document and workflow management Acta Nova simplifies the structures completion of business transactions, displaying all stages of the process in a comprehensible way.
The form server can be directly licensed as an additional component of the Acta Nova Suite.This is because "more and more customers demand complete solutions for business processes", says aforms2web manager Peter Marvin Behrendt.  "As a partner of Acta Nova Solutions we are able to offer our clients comprehensive solutions, from start to delivery".
Consistency and Interoperability
Online-forms are a fixed component of a modern e-government and are used in both the public administration as well as in economy."Efficient processing of forms is essential", explains RUBICON manager Peter Grassnigg. "Through close integration and thus high interoperability of the form server with Acta Nova information directly flows into the business process".
Established Partners of public administration
For many years both aforms2Web and RUBICON have been active for public administration in the German-speaking area. In Switzerland their customers include several cantons and municipalities as well as the Swiss Federal Railways and the Zurich public transportation.
Furthermore the product Acta Nova could prevail against competition in the tender for electronic business administration (GEVER) of the Swiss Federal Administration. The implementation and rollout will be carried out within the next years.