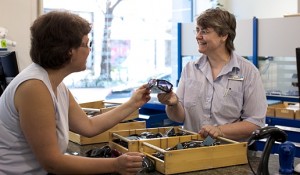 The lost property office in Zurich was very successful last year. More lost property could be returned to their owners and the use of the online lost property office has increased considerably.
The figures compared to the previous year:
32,513 lost properties were handed over(+3%)
54,5% of the lost properties could be returned (+4% = 1,792 more items)
29,351 accesses to the online records of found property (+18%)
4,936 online lost property enquiries (+17%)
24,236 telephone calls (-13% = 3,066 fewer calls)
"We are very satisfied with the development. I am curious how the results for this year will be", says Daniela Baldauf, head of the lost property office.
Higher recovery rate – less administrative effort
Since 2011 the lost property office Zurich uses the lost and found software easyfind developed by RUBICON. easyfind not only facilitates the management of lost property, it also enables Zurich to be part of Switzerland's national lost property service.
All participating lost property offices register their lost items in a central lost property database. Citizens can then comfortably search for lost items online at www.easyfind.ch around the clock and nationwide. In this way, the software helps saving processing efforts in the lost property office e.g. through telephone requests. The recovery rate also increases through automatic matching of enquiries and records of found property.
More information about easyfind.