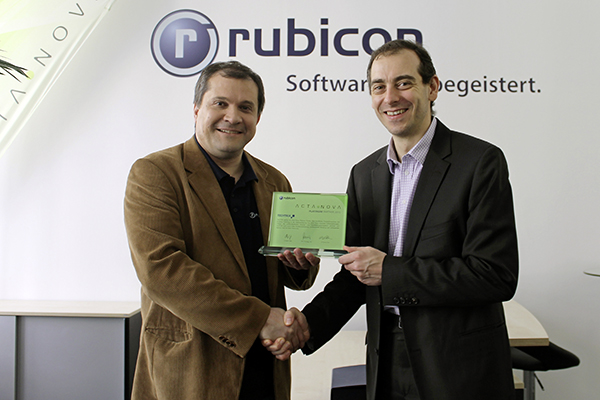 TechTalk has been made Acta Nova Platinum Partner. As Platinum Partner TechTalk provides excellent product know-how and extensive experience in the implementation of Acta Nova-based software solutions. In 2015 we will continue on this successful path.
"In addition to their outstanding solution and service competencies, TechTalk provides a strict customer focus as well as professional and comprehensive consulting service", points out Christoph Unger, Head of Business Solutions at RUBICON.
Cooperation to be strengthened
Franz Noll, senior manager at TechTalk, has an optimistic outlook: "We are honoured to receive Platinum status and feel affirmed to continue our fruitful cooperation".
Acta Nova has been established as a standard product for efficient electronic records management. There is growing worldwide demand for such a solution that incorporates document and workflow management. We will further intensify our cooperation with TechTalk in the future in order to successfully implement even more projects", says Peter Grassnigg, Managing Director of RUBICON IT GmbH.H.