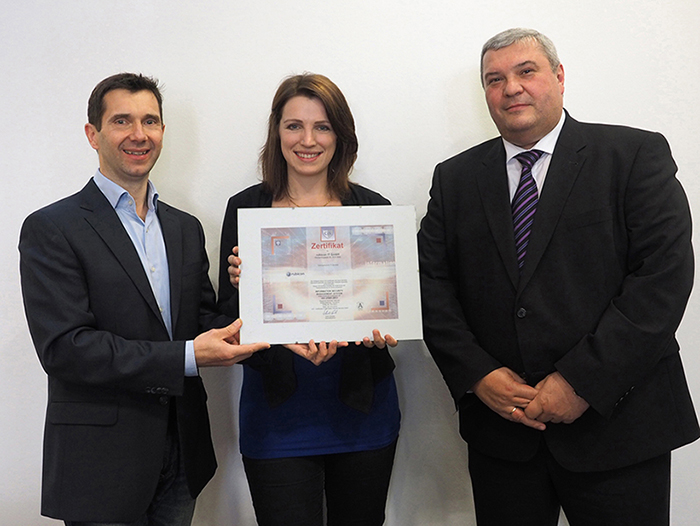 Our IT Services department was awarded with the ISO 27001 certificate. The ISO 27001 standard is a globally recognized standard for the assessment of the security of IT environments. The certification confirms that RUBICON operates an effective Information Security Management System.
Clearly defined security standards
The catalogue of requirements contains guidelines for data protection, the handling of sensitive information, backup and recovery or a risk evaluation. By introducing extensive security mechanisms IT and information security at the highest level are ensured.
 "The ISO 27001 certification means that our customers can rely on measurable and controllable safety standards regarding the operation of their applications", says Peter Grassnigg, Managing Director of RUBICON IT GmbH. In the role of a computer center service provider RUBICON holds sensitive and business-critical data from customers. That is why confidentiality and availability of information are important requirements for the successful operation and a trustful cooperation. "We want to assurance our customers that we optimally protect their most important intangible assets – their information."
Erich Scheiber, Managing Director of CIS – Certification & Information Security Services GmbH, which carried out the certification, congratulates RUBICON: "Now RUBICON belongs to the select circle of about 60 companies in Austria, which have an ISO 27001 certification. This is a clear proof of quality and evidence for safety-conscious acting regarding all IT and business processes as well as the company's sensitive information."
IT Services at RUBICON
The IT Services department is specialized in the smooth operation of business-critical applications, where complex requirements arise from their individualitiy. Applications with 100 to 10,000 users are operated for large and medium-sized enterprises and for the public administration.